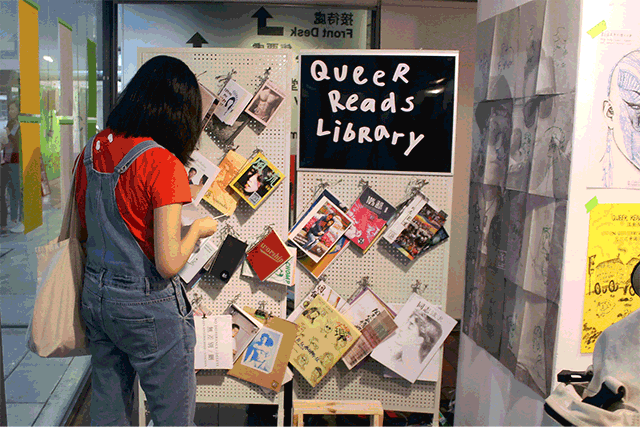 Queer Reads Library (QRL) 流動閱酷 is a mobile collection of books and independently published zines centred around queer narratives and themes. Catalyzed by the removal of ten LGBTQ-themed children's books from public shelves by the Hong Kong Public Library in June 2018, QRL was created in Fall 2018 to cultivate a space where queer people can gather and celebrate their narratives. In the beginning, we asked ourselves: "Where is the queer community in Hong Kong?"
QRL, much like queer gender and sexuality, is fuelled by the fluid, experimental, and (sometimes) mischievous. We are interested in where our library will take us and who wants to engage with queer histories and narratives, specifically through printed matter.
QRL aims to connect and collaborate with queer Asian people in the continent and in the diaspora. By virtue of our connections, our team spans across two continents. Currently, artist-publisher Beatrix Pang is based in London, artist-curator Kaitlin Chan is based in Hong Kong, while artist-writer Rachel Lau is based in Vancouver.
Regarding submissions, event collaborations, or to just say hi, please contact us at queerreadslibrary (at) gmail.com. Please note that we do not sell books and are not a distributor, we collect books and share them readers at events or through online channels.
This website was designed and developed by Studio Earth and NEKOGATO and launched in November 2020.
Friends of the library:
Asia
Conversations, a series of interview by Singapore Art Book Fair
FILGUYS Association for Filipinx Transmen and Lesbian of Hong Kong
indisczinepartij, a zine collective based in Yogyakarta, Indonesia
infoshop cafe byulkkol, a Korean independent space
Loneliness Books, Tokyo based book and zine distributor for queer printed products
Migrants' Pride (Hong Kong)
Queer Zine Fest, a Singapore based platform and collective
wares infoshop, a space in Singapore carve out new space for study, agitation, and autonomy beyond capital
zinedabaad, women of color, queer people, trans and non-binary folx making zines, India
ZINE COOP, Hong Kong zine collective and Instagram platform
North America
Asian Zine Fest, based in Toronto, Canada
Chinese Culture Center of San Francisco
joss paper library, a research collective based in Vancouver's Chinatown, with a focus on self- and independently- published works centering around the Asian diaspora, located on the traditional, ancestral, unceded, and occupied territories of the Coast Salish peoples
Queer Archive Work, a infoshop and print studio based in Rhode Island, USA
Europe and Oceania
daikon*, Zine by and for SE & E Asian people of marginalised genders in the uk diaspora, working towards a wider platform of intersectional solidarity
Red Pocket Press, Queer Asians honouring Year of the Rat through zines, art and food in Melbourne, Australia (occupied territory of Naarm)
Queer Zine Library, UK based mobile zine library